When it comes to Microsoft Teams migrations, no two strategies are exactly the same. With so much nuance to every voice system, companies often waste time, money, and manpower planning their Teams migrations blindly. However, if you're looking to make a seamless voice communications transition, whether you're starting with a legacy, on-premises, or CCE system, you have no reason to fear: there are many strategies that can work for your organisation. Check out our list below to learn the requirements for migrating from each system:
Step 1: Evaluating Coexistence Modes
When migrating to Teams, one of the first things you should evaluate is whether its strategic for your organisation to use multiple coexistence modes or go all-in with a complete upgrade to Teams Only. While most legacy PBX users should simply go straight to Teams, Skype for Business on-premises and CCE users need to analyse whether their organisations are ready for a full migration. This means evaluating the different modes provided by Microsoft, which give different levels of access to Teams and Skype for Business. With this in mind, it's important to clarify a few questions users often ask about the functionality of different modes, including:
Which client can be used for calling and chat?
Which client can be used for scheduling new meetings?
Which client is a user's presence based on?
Will Teams & Channels functionality be available?
Check out our graphic below for answers to these key questions: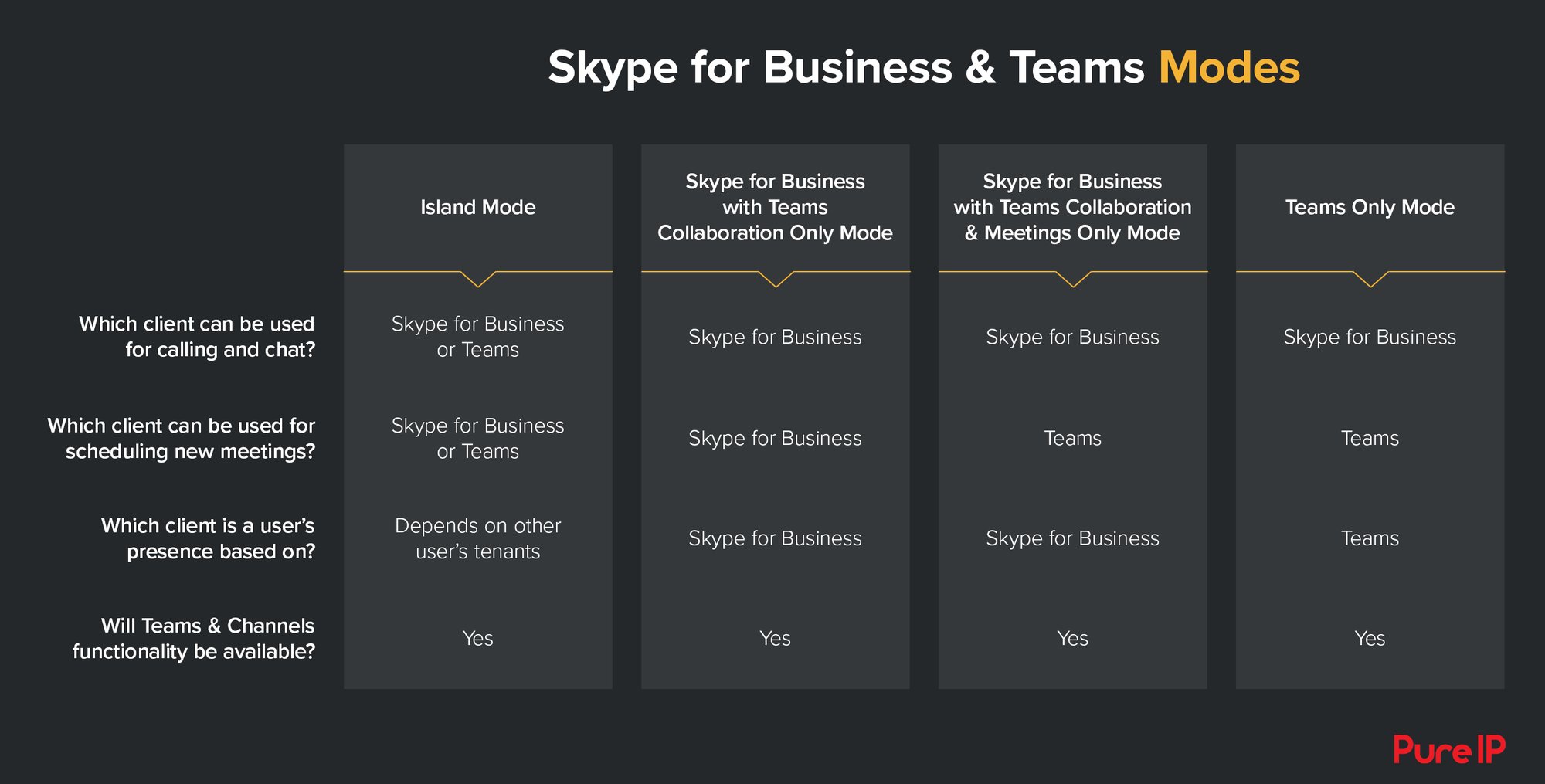 With an understanding of Teams modes, you're now ready to evaluate transition strategies. The two main options are a gradual upgrade or a direct upgrade, which are described below:
The Gradual Upgrade Journey
A gradual upgrade journey is for organisations that want to use particular modes for different groups of users. You should identify these users first, which allows you to easily search for them in the Microsoft Teams admin centre. This can also be done with PowerShell. With this strategy, Teams should first be deployed in Islands mode for all users. Afterwards, different coexistence and upgrade modes for separate user groups can be deployed; companies can choose between Islands mode, Skype for Business with Teams Collaboration Only mode, and Skype for Business with Teams Collaboration and Meetings mode. When users are ready to use Teams for day-to-day communications, they can then be upgraded to Teams Only mode. This strategy should be used for companies that have teams with differing collaboration needs and time requirements.
The Direct Upgrade Journey
With this strategy, organisations deploy Teams alongside Skype for Business in Islands mode. This means that users will have both tools at their disposal for chat, calling, meeting, and scheduling. The goal is to quickly retire Skype for Business, so after users have been initiated with Teams, companies should switch to Teams Only mode across the organisation. Microsoft recommends this strategy for Skype for Business Online customers.
Note that before going Teams Only, users must be completely moved to Skype for Business Online.
Step 2: Getting Ready for a Tailored Teams Transition
After evaluating Teams coexistence modes, it's important to understand the specific migration requirements for your existing system:
Legacy PBX System
If you're starting with a legacy PBX system, you will first have to get a Microsoft Office 365 account. Given that Microsoft is completely phasing out Skype for Business and transitioning to Teams, all companies planning to upgrade their voice communication solutions should look at the Microsoft 365 Roadmap to find out if their collaboration requirements can be met solely with Teams. If these requirements are met, you should go straight to using Teams Only to avoid unnecessary migrations in the future.
Here are the requirements for migrating straight to Teams:
If you'd like to deploy Direct Routing for voice, you will need:
An Office 365 subscription either through an E1, E3, or E5 licence.
A Microsoft Audio Conferencing licence, which can be found as part of the E5 licence or as an add-on for the E3 licence. This is required in order to add external participants to scheduled meetings.
A phone system licence, which can be fulfilled either through the E3 or E5 licence.
Note that for companies without a Skype for Business server, Microsoft recommends rolling out Teams workloads in the following order:
On-Premises
If you've deployed Skype for Business on-premises, and are currently only on-premises, you have to first implement Skype for Business hybrid before going Teams Only. Required steps are outlined below:
Deploy hybrid connectivity between the Skype for Business Server and Office 365. This means users can be moved between the on-premises environment and the cloud.
Plan to move users to Office 365.

You must have Azure AD Connect configured and must sync relevant attributes for the user.
You must have proper Teams licences, as outlined above.
You must then manage the transition with Teams Upgrade Policy and determine which modes should be used for each group of users, as discussed above.

After transitioning users to Teams Only mode, you will need to upgrade to either Microsoft Calling or Direct Routing in order to use Microsoft Phone System with Teams.

Note that, according to Microsoft, upgrading on-premises users to Teams can be simplified with the Skype for Business Server 2019 and Skype for Business Server 2015 with CU8 update.
Note that you can keep your existing on-premises account when migrating to Teams.
Cloud Connector Edition
Migrating from a Skype for Business CCE solution requires the same steps as an on-premises system with only a few key differences:
Since CCE is already a hybrid solution, unlike on-premises systems, companies do not need to deploy hybrid connectivity.
Customers that have a supported SBC with CCE can pair the same SBC to the Teams backend. Once the Teams client is deployed and voice routing policies are changed, the CCE can be decommissioned.
Note that you can also keep your existing online account when deploying Teams.
Completing Your Microsoft Teams Migration with Direct Routing
With options for when and how to conduct a Microsoft Teams deployment, it's important to answer the tough questions about your collaboration needs, including whether your business is ready to take advantage of Direct Routing. If you're looking for an agile global voice communications solution, check out our Microsoft Teams Direct Routing solution, which includes failover engineering to geo-redundant secondary SBCs, 24/7 dedicated support, and international coverage in 90 countries.