As a pioneer of BYOT – Bring Your Own Trunk – Microsoft is empowering customers to get the most of their corporate voice solutions with Microsoft Teams Direct Routing. Adaptable and scalable, Direct Routing gives companies the opportunity to use their preferred SIP providers for calling in Teams. Given that Skype for Business will soon be phased out by Microsoft, it's more important than ever to start preparing your organization for the future of voice communication. Read our guide below for everything you need to know to get started with your deployment:
The Enterprise Model:
If you're tied to an existing phone system or other on-premise hardware, then you will likely follow the enterprise model. In this case, the SBC is located on the customer premise and is connected to a single Office 365 tenant. For this model, you will need the following:
Licensing
An Office 365 subscription either through an E1, E3, or E5 licence.
A Microsoft Audio Conferencing licence, which can be found as part of the E5 licence or as an add-on for the E3 licence. This is required in order to add external participants to scheduled meetings.
A phone system licence, which can be fulfilled either through the E3 or E5 licence.

Note that Direct Routing also supports users with the additional licence for the Microsoft Calling Plan.
Infrastructure
A qualified SBC. All organizations will need a supported SBC. As of now, the qualified vendors are Audiocodes, Ribbon Communications, Thinktel, Oracle, and TE-Systems.
A way to connect the SBC. In order to connect the SBC to the Microsoft Teams SIP proxy, companies will need to have:

A SIP signaling port.
A fully qualified domain name (FQDN). This must come from one of the registered domains in the organization's Office 365 tenant. Examples can be found here.
A public trusted certificate for the SBC, which can support a wildcard or a SAN certificate. Microsoft recommends requesting the certificate by generating a certification signing request (CSR). Importantly, the certificate needs to be generated by one of a select group of root certificate authorities. You can find the list here.
A public IP address for the SBC. It is recommended to only open this IP address to Teams Transport Relays.
A public DNS entry for the SBC, which will map the SBC FQDN to the public IP address.

A SIP trunk or legacy PRI. Organizations will need a telephony trunk that can connect to the SBC.
The Carrier Hosting Model:
If you're not tied to an existing phone system, many experts recommend using the carrier hosting model. In this model, the customer picks the provider of their choice to host the Direct Routing SBC and to handle telephony services. Customers will use a carrier's SBC, which is paired with their Office 365 domain and then tied to multiple Office 365 tenants via subdomains. Here are some key facts about the carrier hosting model:
Since calls are not routed based on DID, each customer instead gets a unique SBC FQDN as a subdomain to the carrier base domain, which is then added as a domain in the customer's tenant. Notably, all customers will have the same SBC.
For each carrier-hosted SBC, organizations will only need to set up a configuration once per tenant. This will cover all SIP domains within that Office 365 tenant.
Licensing:
A subscription from your carrier of choice, which is in addition to the Teams licences. When picking your carrier, you will be able to choose from an array of billing options, such as flat rate, pay-as-you-go, toll-free, or an option bundled with other subscriptions.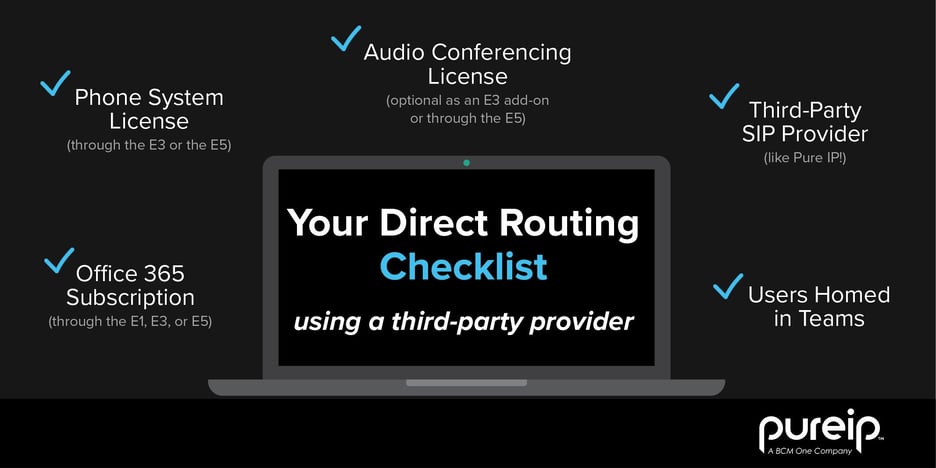 Because a third-party is responsible for the SBCs and telephony services, companies will not need to handle their own public IP address, FQDN, DNS, or public trusted certificates. They will also not need their own SBCs. This means less time configuring and more time focusing on IT needs, which is especially important for international companies.
Final Steps Checklist
Before completing a Direct Routing configuration, for either enterprise or carrier hosting models, make sure that:
All licences are assigned to users and that each user is assigned their phone numbers and voicemail.
Voice routing is configured, which requires creating voice routing policies, PSTN usages, voice routes, and online PSTN gateways.
Teams is set as the preferred calling client for users and private calling for the tenant is enabled.
Voice routing policies are assigned to users and user acceptance testing is executed for both dial-in and dial-out scenarios.
Make the Move with Microsoft Teams Direct Routing
Undoubtedly, Teams is the collaboration tool of the future: that's why it's essential to start upgrading your voice communications with Microsoft Teams Direct Routing. If you're ready to get the most out of your Microsoft licensing investment, check out Pure IP's flexible and quickly deployable Direct Routing solution, which includes failover engineering to geo-redundant secondary SBCs, 24/7 dedicated support, and international coverage in 90 countries.