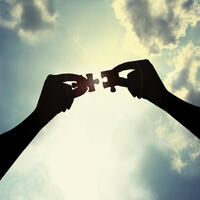 You've rolled out Skype for Business across your organisation and you want to start benefiting from having access to an integrated suite of voice, video, IM and email communications, combined with a set of functionality that offers a collaborative end user experience – but you just don't know where to start?
You've made a substantial commitment from a financial point of view and you've convinced end-users to buy into adopting Skype for Business as their communications solution of choice, but now you are struggling to understand which feature to focus on first to demonstrate increased usability and ROI.
You know that Skype for Business conferencing can provide a great ROI, but you're not sure how to get your network up and running. This is when you start your search for a qualified Microsoft Skype for Business SIP Trunk provider to help you on your journey.
Does this scenario sound familiar? It is one that we hear more often than not.
In our latest eBook "Unlocking Skype for Business Conferencing" we walk you through the first steps of your journey to Skype for Business enlightenment – starting with adopting a Skype for Business conferencing solution that expands your international reach, provides increased call quality and saves business expenditure.
Our Skype for Business voice SIP Trunks give your organisation high quality voice calls without any physical equipment. Our voice solution is fully qualified for Lync 2010, 2013 and Skype for Business, and Pure IP has been a member of the Microsoft Unified Communications Open Interoperability Program since 2010.
Our team of specialists will work with you to maximise your Skype for Business conferencing applications by pairing them with dedicated international local numbers, so that you can begin to receive affordable, fixed-cost telephony services to connect users to your Skype for Business Conference Bridge, without changing any other telephone services.
All of these benefits and more are explained in our latest eBook, just follow this link to access your copy of "Unlocking Skype for Business Conferencing" where you will discover more about Pure IP and how combining our SIP Trunking with Skype for Business services can bring tangible benefits to your organisation.