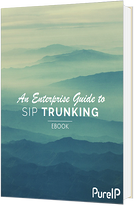 Communication in today's world is a 24/7 occurrence. We live and work in an "always on, always connected" world. There is a case to be argued that this has turned into a double edge sword as the boundaries between our work lives and personal lives begin to blur. The world continues to get smaller as businesses move across physical boundaries and build a truly global footprint. However, being a global business in the 21st century brings a raft of new challenges, one of them being how to use technology to bridge the physical divide between office locations. Whether offices are based in the US, UK, Europe or Asia Pacific, CIOs and IT Managers are charged with the difficult task of having to tie in disparate office locations and manage local network providers in order to provide support to employees in the event of a failure.
For an IT team that supports multi-national office locations the experience of having to deal with multiple local telecoms providers, when they are not fluent in their local language, can be a long and frustrating process. The frustration is two-fold when you consider the employees in the regional office unable to use their telephone system - patiently waiting for an update from head office as to why they cannot carry on with their daily working tasks. Without a suitable solution in place to protect against scenarios such as these, businesses run the risk of leaving their communications network exposed to failure.
The good news is that for businesses that have decided to implement a SIP Trunk solution the results can be completely transformative. A SIP Trunk solution simplifies the remote office infrastructure and centralises regional office communications under the central umbrella of head office IT.
Why should you choose a SIP Trunk solution?
If the sound of gaining control over your existing telephony through a highly flexible single network that allows you to add, remove and transfer numbers quickly that can be scaled as your business grows and expands – all with fixed-fee billing - is music to your ears, then it might be about time that you seriously considered a SIP Trunk solution.
These are just a few highlights of why organisations should choose a SIP Trunk solution to globalise their telephony and conferencing and in our latest eBook – Globalise your telephony with SIP Trunking - we explain the full benefits to be gained. You can download the eBook by clicking the button below and filling out the form.
The move away from local fixed lines to a controlled network will revolutionise the way your business manages its regional communications network. Your IT team will gain control over your global telephony, which increases the level of support they can provide to regional offices and ends the reliance on poor performing local network providers.
To find out more about how partnering with a certified SIP Trunk provider will enable you to see the benefits of a global telephony and conferencing solution, download our eBook by clicking here or button below: